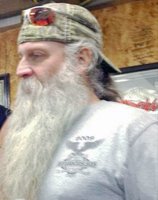 Kevin T. Bollinger
Kevin T Bollinger, 54, of Armagh peacefully passed away September 27, 2017 in the home that he loved in the warm and loving arms of his wife. He was born May 18, 1963, a son of James and Nancy Bollinger also of Armagh.
Kevin graduated from United High School in 1981 and was a dedicated, hardworking and respected diesel mechanic for Wright Motor Lines of Armagh with nearly 25 years of service where his employers and coworkers were a second family to him.
Kevin will be fondly remembered and sadly missed by his many friends for his ready laugh and willingness to lend a hand.
He loved fishing, enjoyed time with his family and friends in the garage, painting motorcycles, and most enjoyed time with his wife and dogs grilling dinner on the deck.
Kevin may be gone from our lives but will forever remain in the hearts of all who knew and loved him; his loving wife, Susannah (Hall), whom he married May 16, 2009; step son, Jesse Wilkins (Tanisha) Providence, RI; his parents James and Nancy Bollinger, Armagh; brother Craig, Seward, sisters-in-law Stephanie Engdahl (Stephen), Boston MA and Sarah Horne (John) of Latrobe. Aunt Helen Williams, Broad Top; Uncle David Weast (Janie), Virginia Beach, VA and his three loyal and loving (if a little wild) dogs, Rex, Ruby and Cricket.
Kevin was preceded in death by mother and father-in-law R. Duane and Judith Hall of New Florence, much loved and anticipated grandson Alexander Wilkins, grandmother Mildred Zehrer, grandparents Harry and Evalene Weast.
A very special thank you to Harold Wright and Gladys and Jerry Knox of Wright-Knox Motor Lines for their unwavering support, caring and kindness during his time of illness and for the mutually respectful and caring work environment. Also thank you to Dr. Cynthia Evans at UPMC cancer center in Indiana, Dr. Stella Boron of IRMC Palliative Care and VNA Hospice
Friends received 6 – 8 PM Saturday and 2-4 PM Sunday, at Richard C. Stuart Funeral Home, 392 E. Philadelphia Street, Armagh, with private family burial at a later date. Wright-Knox Garage, co-workers and friends will be providing a memorial dinner 5 pm, Sunday at Armagh Fire Hall, 12095 Rt. 56 Hwy., Armagh.
In lieu of flowers, please send donations to the American Red Cross or animal shelter of your choice in honor of his memory.
"Take my eyes, take my heart
I need them no more
If never again they fall upon the one I so adore."
Grace is Gone, Dave Matthews Band