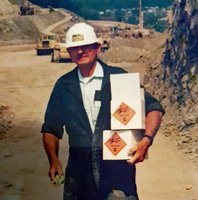 Rudolph E. Kabasta
(Do not delete this line. It does not print. Text that is to appear on web must be entered after this line)«
Kabasta, Rudolph E., 85, Gas Center, passed away peacefully surrounded by his loving family November 12, 2018 at home. Born October 1, 1933 in Blairsville, the son of the late Vendellin and Mary (Rona) Kabasta. Also preceded in death by grandson Barry C. "B.J." Brendlinger, Jr.; great-grandson Cedric Vaughn McElwee; brother Joseph Adamchik; sister Josephine (Adamchik) Brown and brother Frank Kabasta.
Survived by wife of 58 years Lois J. (Miller) Kabasta; children Melinda Kabasta and fiancé Mark Gunter, New Florence; Sheary Snyder, Armagh; Janice Shank and husband Bill, Bolivar; Patty Lichtenfels and husband Rex, New Florence; Rudolph Kabasta, Jr., and fiancé Mandy Naylor; Dilltown. 20 grandchildren; 19 great-grandchildren; sister Fran LaMantia, Seward.
Rudy was retired from and 50-year member of Laborer Local 1058 where he was employed as an explosive engineer and ranked top shot explosive engineer in Pennsylvania. He was called in for his expertise on the Blue Knob and Tuscarora Mountain Tunnel and blasted the site for the first electric kettle in Pittsburgh. Rudy enjoyed hunting, fishing, camping, working with his Kubota riding his motorcycle with his dog Buddy ridding on the back seat. A U.S. Army veteran where he served as a MP. He enjoyed spending time with his family.
Friends received 2-4 and 6-8 PM Wednesday at Richard C. Stuart Funeral Home, 392 E. Philadelphia St., Armagh. A Mass of Christian Burial will be held 10 AM, Thursday, Holy Family Catholic Church 425 Bridge Street, Seward. Rev. Robert Washko officiating. Interment Bethel Cemetery.