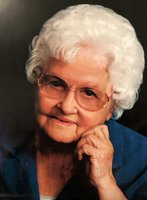 Georgene M. Tomb
Tomb, Georgene M, 88, of New Florence, PA, passed away on March 5, 2019 at Westmoreland Hospital. Born December 9, 1930 in Armagh, PA, the daughter of the late George and Mary (Lowther) McCachren.
Survived by daughters Jan Tomb and Marianne Tomb Snyder; grandchildren Amy Tomb, Jeannie Tomb, William D. Snyder (Megan), and William R. Tomb; great granddaughter Madison Snyder; daughter-in-law Kerry Tomb; faithful friend and neighbor Florence Decker; and numerous nieces and nephews.
In addition to her parents, she was preceded in death by husband William M. Tomb; son William B. Tomb; sisters, Lois Lytle, and Mary Lou Clawson; brothers, Ernest Lowther and Loris "Tony" McCachren, and infant twin brother, George McCachren.
She will be deeply missed by those who love her.
Friends received 4 – 7 PM Friday, at Kenneth A. Stuart Funeral Home, 139 Ligonier Street, O.E.S. service 6PM. Service will be held 11 AM Saturday at Trinity Presbyterian Church, 117 Chestnut St., New Florence, PA 15944. Pastor Ruth Moore officiating. Interment Armagh Cemetery.
Online condolences may be left at www.thestuartfuneralhomes.com