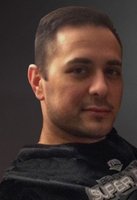 Ojay Boring, Jr.
Oscar "Ojay" Boring, Jr., 35, New Florence passed away January 1, 2021. He was born March 19, 1985 in Johnstown the son of Teresa (Stiffler) McGinnis and her husband Jim, Seward; and Oscar Boring, Sr. and wife Marsha, Acme. Also survived by children Aubrey, Tyler, and Brooklyn; sister Ashley Lichtenfels and husband Matthew, Clyde ; and his nieces Mya and Ava.
Ojay was a retired Boilermaker and member of Local 154. He enjoyed the outdoors, hunting, and mushroom hunting. He was a talented athlete who enjoyed sports. He was a smart, funny, and wonderful person who fought a hard battle he could not overcome and is finally at peace.
Friends and family received 2 pm till time of reflection and celebration of his life at 4 pm Thursday at Richard C. Stuart Funeral Home, 392 E. Philadelphia St., Armagh. As per CDC guidelines face covering and social distancing will be required.