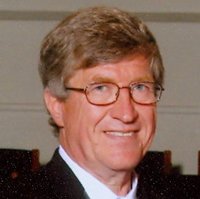 Dr. Paul R.P. Hughes
Paul Hughes, 69, of New Florence, Pennsylvania passed away on Friday, March 19. He did so peacefully in his home, surrounded by family and with his two dogs on his lap.
Paul was born in Johnstown in 1951. He was a graduate of Laurel Valley High School, received his BS from the University of Pittsburgh at Johnstown and his DDS from Temple University. Paul was a beloved family dentist, with practices in New Florence, Snow Shoe and State College before retiring back to New Florence later in life.
Paul was a lot of things to a lot of people. He always put the needs of others above his own. He was quick to share a laugh and always there when needed. He was also full of wisdom that he readily shared with his children. The Hughes boys grew up confidently knowing that red lights are not brick walls, the pitfalls of having a selective memory and that if we didn't know, he would always respond with "well then who should I ask?" Most importantly, we learned that the world is an easier place when you are kind to others and that kindness given often finds its way back to you in time. He can rest peacefully knowing that his grandkids are learning these same lessons today.
Paul is survived by his high school sweetheart and wife of 49 years, Janet (Adams), his brothers and sisters-in-law Barry and LouAnn, Ken and Tami, and Nancy Adams, his stepmother Pat Griffith-Hughes, his children Justin and Stacy, Nolan and Amber, Adam and Alice as well as his seven grandchildren, Alice, Madeline, Jack, Harper, Maxwell, Hayden, and Henley who will miss their Pop-Pop dearly.
The Hughes family would like to express their deepest gratitude to Ken Hughes for his tireless devotion to serving Paul over the last three years. In early 2018, Paul experienced complications from an elective surgery that nearly took his life. Afterwards Paul was left paralyzed from the chest down, and, as a result, he needed significant assistance from others for personal care. Ken lovingly provided most of this care, regardless of the time of day or night. The family is forever grateful to Ken for allowing Paul to enjoy his remaining time at home with Janet.
The Hughes family would also like to thank Conemaugh Hospice for their compassion and grace in easing Paul's departure.
In these difficult times, memorial services will be delayed until circumstances allow for a safe gathering of Paul's family to celebrate his life. Those that knew Paul best will always remember his kind and generous heart. In lieu of flowers and in memory of Paul's love and kindness, please instead share a hug or a kind deed with a loved one and donate your time to help others in need.
Arrangements in care of Kenneth A. Stuart Funeral Home, New Florence.