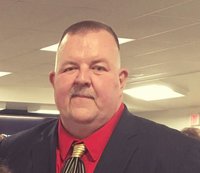 Tracy S Howe
Tracy S. Howe, 60, Robinson, passed away March 20, 2021. Born February 4, 1961 in Johnstown the son of the late Joseph L and Leona Grace (Garland) Howe.
Survived by wife Donna (Zimmerman)Howe, Robinson. Children Stephanie "Newt" Gafford & husband Daniel, Portland, OR; Zachary Howe, Bolivar; Christopher Howe, Blairsville; Nathan Howe, Bolivar; Adrian Varner, Robinson; Clinton Varner, Seward; Clayton Varner & wife Jodi, New Florence; Pauline Varner, New Florence; numerous grandchildren; sisters Andrea Perkin & husband James, Allentown; Patricia "Sue" Howe, Robinson; brother Mike Howe and wife Rita, Arlington, VA.
Tracy was a member of the New Florence Congregation of Jehovah Witness. Former property manager of Girl Scouts of Western PA Camp Henry Kaufmann. Former president of Mountain Valley Midget Football League where he was a beloved coach to many young players.
Visitation for family and friends will be held 5 pm to 8 pm Monday at Kenneth A. Stuart Funeral Home, 139 Ligonier St., New Florence.