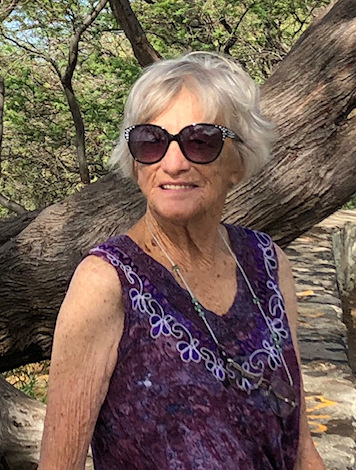 Joan S. Grant
Joan (Jo Ann) S. Grant was a caring wife, mother, grandmother, sister, aunt, and friend. She left this world peacefully on September 25, 2021, in Bolivar, PA at age 88.
She was born to Alice and Howard Stevens on June 6, 1933. She studied at Lyndon College for one year before she married her next-door neighbor Aril Grant, who survives her and lives in Pennsylvania and Vermont. They were married on July 12, 1953. The two of them traveled all over the country and met tons of interesting people.
Jo, mom, gram, truly lived life to the fullest and was smiling most when she saw her family. She treasured being outdoors in her gardens, hiking, biking, walking, swimming, snowshoeing, and kayaking with friends and family. She spent many hours quilting or crocheting or knitting, usually to give as gifts. Her piano playing was a huge source of pleasure for her and others. Her caring and fun personality was contagious to everyone she met. She traveled to all 50 states, Canada and even 3 weeks in Europe and was always happy to come home to Island Pond, Vermont.
Joan is survived by her husband, Aril Grant; children, Linda Bingham and husband Randy, James Grant and wife Deb, Lori DiRinaldo and husband Joel; Grandchildren, Jason Bingham, Cory Bingham, Travis Bingham (Torie), Jamie Allen (Greg), Tyler Grant (Ashton); Great-grandchildren, Nicholas, Taylor, Brodie, Jadin, Avery, Tate, Jhett, Harper, Addilyn and many nieces and nephews. She is also survived by her bother Richard Stevens and sister Debra Brown (Jeff). Joan is predeceased by her parents Howard and Alice; Siblings, Howard Jr., Gary, Roxanna and son Nicholas Grant.
There will be a memorial service held in her honor in Vermont in the Spring. She was an avid animal and nature lover, so in lieu of flowers, please send any donations to either Pope Memorial Frontier Animal Shelter at 4473 Barton Rd., Orleans Vermont, 05860, or the Northwoods Stewardship Center, PO Box 220, East Charleston, VT 05833. Online condolences may be left at www.thestuartfuneralhomes.com