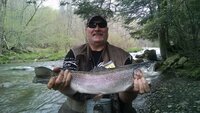 Randy Blake Twigg, Sr.
Randy B. Twigg, Sr. died peacefully on Sunday, December 26, 2021. Born September 22, 1961, he was a son of Donn and Norma Twigg, the youngest in a family of 18, born on his mother's birthday. He is survived by his sweetheart Terri (Foister) whom he married on July 9, 1983. Also surviving are their children Randy "RJ" (Mary), Aaron (Laura) and Carolyn "Sis" (Matt) Ressler. They loving called him, "The Silverback." He doted on his thirteen grandchildren: Josh, Emmy, Nina, Aubree, Alaina, Alivia, Mila, Blake, Jase, Troy, Tanner, Tate, and Taya: all of whom will miss their "Big Pap."
In 2010, Randy and Terri tragically lost their son, LCPL Joshua Twigg, KIA in Afghanistan. In addition to Josh and his parents and his in-laws Thomas and Caroline "Anne", Randy was preceded in death by his family members: Donn, Jr., James, Edd, Evelyn Donahoo, Marian McClinsey and Emma. He is survived by eleven siblings: Sam (Marge), Norma (Jim) Rhine, Ernest (Donna), August (Aimee), Doris (Terry) Bourdess, Ken (Deb), Tom (Gail), Tim, Beverly (Jim) Bence, Bonnie Czar, and Cindy: as well as many nephews, nieces and great nieces and great nephews.
Randy Served in the US Navy and was a proud member of the Carpenters Union Local #950, out of Tyrone. He loved his family, adored his wife who took such good care of him, enjoyed carpentry projects, fishing, hunting, and being outdoors. He was a proud owner of a Harley-Davidson, which gave him much pleasure. Randy was a hardworking man who would lend a hand to anyone in need.
Friends received 1 pm till time of service 4 pm Thursday at Richard C. Stuart Funeral Home, 392 E. Philadelphia St., Armagh. Rev. August B. Twigg officiating. In lieu of flowers memorial donations may be made to the family to help with expenses.