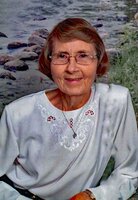 Betty Jean Decker
Betty Jean Decker, 89, New Florence, passed away peacefully at home surrounded by her loving family. Born February 21, 1933, in Golden City, MO, she was the daughter of the late Clinton and Sarah (Alexander)Bowles. Also preceded in death by 1 brother, 1 sister, 7 step brothers and 4 step sisters.
Survived by husband of 70 years Vincent Decker; daughter Barbara (Decker) Marsh, New Florence: grandchildren Holly Jane (Marsh) Hulbert and husband Patrick, New Florence; Valerie Jean (Marsh) Palko and husband Stephen, Sr., Derry; Raymond Vincent Marsh and wife Christina, Ligonier; great-grandchildren Raymond Marsh, Jr. and wife Jessie, Bailey Deemer and husband Isaac, Krystopher Henderson, Keyona Henderson, and Stephen Palko; great-great-grandchildren Makaleka Marsh, Maria Marsh, Raylynn Deemer and soon to be born Isaac Deemer, Jr.
Betty was a member of New Florence Methodist Church, Roving Volunteers in Christ Services for 20 years, and Laurel Valley Senior Center, New Florence. She enjoyed crafts, sewing and taught ceramics at her shop for many years. Previously she had been employed at the garment factories in both New Florence and Blairsville, along with several other jobs. Most of all Betty enjoyed spending time with her family, especially her grandchildren and great-grandchildren.
Friends received 2-4 pm and 6pm till time of service at 8 pm Sunday at Kenneth A. Stuart Funeral Home, 139 Ligonier St., New Florence. Future interment Fairfield Cemetery. In lieu of flowers memorial donations may be made to the New Florence Methodist Church, POB 267, New Florence, PA 15944.