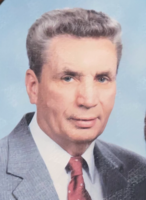 Dwight Paul Plowman
Dwight Paul Plowman, 95, of Hilton Head Island, South Carolina, went to be with the Lord December 4, 2022. He was born March 3, 1927, in Indiana County, Pennsylvania, son of the late George M. and Rose M. (Ressler) Plowman.
He is preceded in death by his wife of 68 years, Shirley Mae (Longenecker) Plowman; brothers Virgil, Forrest, Lloyd, Don, James Plowman and infant brother Blair; sisters, Twilight Stutzman, Dorothy Zeiset, Jennie Conrad and infant sister Nora. Survived by his sons Bradley P. Plowman; Kevin D. Plowman and wife Melinda; daughter Sandra L. Kuhn and husband Michael; son Brian J. Plowman and Judy; grandchildren Eric Plowman and wife Kristy; Ryan Kuhn; Jason Plowman and wife Kelly; Robert Plowman and wife Jennifer; Melissa Aldinger and husband William; Lindsay Koch and husband Jon; Bethany Norman and husband Cody; great-grandchildren Olivia, Sophia and Ava Plowman; Levi, Lucianna, and Lola Plowman; Tessa and Tristan Koch; Cole and Trent Plowman and Eleanor Aldinger.
He was the founder and former President of Gateway Diesel Inc and served in the U.S. Navy during World War II and Korean War. He was a member of North Raleigh United Methodist Church. Dwight loved his family and enjoyed spending time with his children, grandchildren and great grandchildren on vacations and gatherings at his family camp in Indiana County, PA.
A memorial service will be held 10:30 am Friday May 26, 2023, at Armagh Cemetery, 196 Grange Hall Rd., Seward, PA 15954.