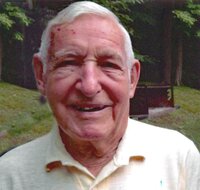 Dean W Harvey
September 14, 1926, in Waterford, Pa. He was the son of the late S. Otto Harvey of Waterford, Pa., and the late Margaret (Smithley) Harvey of Ligonier, Pa.
Dean was also preceded in death by his wife of 65 years Alice Harvey.
Dean is survived by children Kathy (George) Martin, Ronald Wayne (Joyce Schuster) Harvey and Debbie (Bill) Connolly. He is also survived by grandchildren Tony Mollick, Amy (Lonnie) Ruozzi, Kimberly (Marc) Miller and Nathan (Haley) Connolly. He has one great-granddaughter Jenna Ruozzi. Numerous nieces and nephews.
He was the last known survivor of his brothers and sisters Marie Rolley, Frank, George, Wilma Betz and adopted brother Bob Sheridan.
Served in the U.S. Navy, Pacific Theater 1943 – 1945 and retired from Bethlehem Steel in 1983.
Dean was an avid golfer, fisherman and hunter. He enjoyed wintering in Florida for 30 years with his wife Alice where they made many friends and wonderful memories.
A faithful member of First Church of Christ, Bolivar, and Laurel Valley Senior Center in New Florence.
Friends and family will be received Friday, March 17th from 4PM - 7PM at Kenneth A. Stuart Funeral Home, 139 Ligonier St. New Florence and Saturday, March 18th, from 10AM till time of service at noon. Officiate Lloyd Campbell of First Church of Christ, Bolivar. Military honors will be provied at the funeral home. Private interment Fort Palmer Cemetery.
The family suggests Memorial contributions be made to Laurel Valley Senior Center in New Florence, PO Box 366, New Florence, PA 15944, where Dean enjoyed many meals, activities, and his friends through the years.