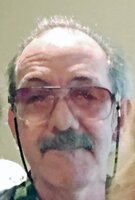 Barry Lynn Cassidy
We lost our brother, Barry Lynn Cassidy unexpectedly on Monday, May 15, 2023. He will be so missed by sister, Carole (Cassidy) Cherny and husband John, Lexington, SC, sister-in-law, Margory Cassidy of New Florence, nieces, nephews and special friend, Linda Decker.
Barry was preceded in death by his parents Harry and Rita (Crizer) Cassidy, brothers Dale A. Cassidy, Regis E. Cassidy and nephew Corey D. Cassidy.
Barry loved to reminisce, had many a tale to tell and most were true. He had a comical sense of humor and enjoyed playing his numbers daily. Barry savored a home baked cheesecake and would try any dish made with cheese.
Friends received 10 am till time of blessing service 11 am Friday at Kenneth A Stuart Funeral Home, 139 Ligonier St., New Florence. Rev. Fr Salvatore Lamendola officiating.